Hawkers are born adventurers who love exploring dangerous or legendary places. They have various abilities and skills that are ideal for exploring dangerous areas. Hawkers may advance to Scouts who specialize in leading expeditions, or Raiders who focus on assassination.
Raiders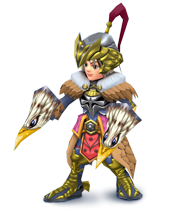 Hawkers may be promoted to Raiders who specialize in delivering deadly attacks. Raiders possess fast movement, hiding abilities and fatal blow skills, so it is ideal for them to use hit and run tactics in battle.
Characteristics
In order to move as quickly as possible, Raiders do not carry many things or wear heavy armor. They wear leather laces tightened around their body, as well as a magic cloak. In melee fights, Raiders can wear armor made of thin metal plates or scales. Raiders are sharp dressers and can wear stylish feathered hats.
Weapons
Raiders, tend to favor Dual Swords or Katars to assassinate their enemies.
Battle Strategy
Raiders equipped with Dual Swords can initiate direct confrontations with their enemies with their increased attack strength and defense. Katar Raiders use their speed and dodge to avoid the enemy until they are ready for a sudden surprise attack. Raiders have a good dodge rate, allowing them to solo well. In a party, Raiders may actively be at the front line of battle due to their increased dodge and defensive strength. They can also contribute to fights by delivering fatal attacks when the time is right.
Main Skills
Raiders possess skills that inflict fatal blows and allow them to hide or camouflage themselves out of the enemy's sight. They also use poisoning abilities, as well as a special skill that increases their movement speed.
Scouts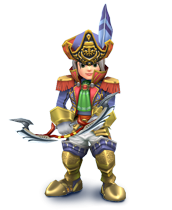 Hawkers may advance to Scouts by focusing on their archery skills. Scouts use Long Bow class weapons to do fast and accurate attacks.
Characteristics
Scouts wear lightweight armors made out of fabric or leather to move as quickly as possible. For increased defense, Scouts can also wear chain mail. They always carry a quiver, and seem to like wearing animal furs.
Weapons
Scouts tend to favor Long Bows, but it is also possible for them to use Crossbows.
Battle Strategy
Since Scouts are well suited to using long range attacks, they can afford to avoid close encounters with monsters. Instead, Scouts initiate attack on the enemy from a distance and continue to attack as the enemy approaches. This makes Scouts ideal for supporting melee attack characters from behind when adventuring in a party.
Main Skills
Since Scouts focus on long range attacks, most of their skills are related to bow abilities. These skills can increase attack accuracy when using a Bow weapon or the number of arrows that they can shoot at one time.