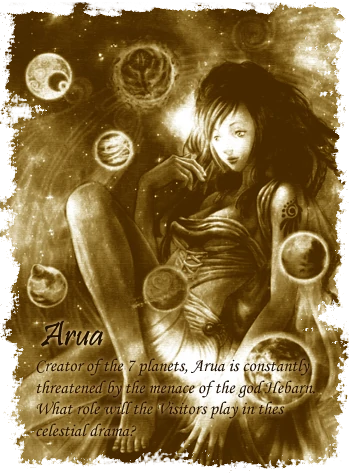 We don't know where she came from, nor how she came to be. However, we do know that nothing existed before her. Arua, The Goddess of life, souls, and all existence, created the universe as she saw fit… a calm and beautiful place where souls could dwell peacefully. The deep matters of the universe cradled the waves of life on which all beings would sway soothingly. This perfect universe was called the Sea of Souls.
Life would come to the Sea of Souls in the form of seven planets. Arua created these out of love, and dedicated each of them to the inhabitants that she breathed life into.
"The planets, as your lives, dear ones, are all yours. As am I. As are your souls."
These are the words of Arua which ring in all being's hearts when they are born.
"To you, I give the Gods, to watch over you. Praise them well, for no love can ever match the one you will receive from them."
And thus, the Gods were formed to watch over all life that Arua had created among the seven planets. Arua named the planets after each of the Gods and Goddesses that would look after them: Junon, Lunar, Eldeon, Orlo, Karkia, Skaaj, and Hebarn.
Each planet's inhabitants lived in happiness, idolizing their respective God or Goddess, and reveling in the pleasures that living under their protection and rule brought.
But all was not harmonious for long. The Dark God Hebarn arrived from another universe, and his plots to destroy Arua's universe began.
Soon, gossip about strange Visitors started. The Visitors protect life, and make right from all that is wrong. They are divine beings; they seldom suffer from hunger or thirst, they do not need as much sleep as most other creatures, but they can hurt, they can love. And they can help.
That is why Arua created them, after all.